The closer we get to Winter NAMM 2018, the closer we get to nerd-vana.
A few fun toys worth a look…
Korg have been busy:
The prologue polyphonic analogue synthesizer
The volca mix analogue performance mixer
The KR-55 Pro rhythm machine ($299.99)
The Konnect portable stereo PA system ($399 street)
The D1 digital piano ($799.99 street)
And a raft of accessories (tuners, metronome, etc.)
It's all there on the Korg Web site.
The prologue comes in 49- and 61-key models. I like the portability of 49 keys although the 49 ($1,499.99 USD street) is eight voices while the 61 ($1,999.99 USD street) is 16 voices. The industrial design looks quite appealing and inviting — can't wait to actually try one.
Although I don't own any modules in the volca range, the volca mix ($169.99 USD street) would make a very useful table-top utility module for analog experiments. In addition to a three channel mixer, the volca mix provides three 9V DC output jacks, tempo control and sync, and two stereo speakers. Would combine nicely with littleBits. (littleBits, I haven't forgot ya. I'm just flat out of time!)
The Sonicware ELZ_1 compact synth is in the "too cool for school" category. It has multiple sound engines: FM, 8-bit wave memory synthesis, DNA Explorer (a waveform extractor and mangler), granular, standard oscillator and low-bit oscillator.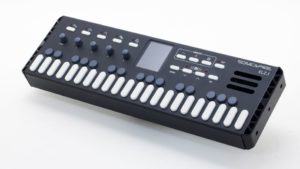 The ELZ_1 keys are dinky chicklets, but it's really about small size and portability (15.7″ x 5.2″ x 1.8″, 2.2lbs, 4 AA batteries, built-in speaker). It doesn't have 5-pin MIDI which is a shame, because with its small size, it would be great to MIDI it up with a full-size controller. (The world needs a $10 self-contained USB-B to 5-pin MIDI converter.) No word on price.
Nintendo are going maker — a nifty idea for extending the Nintendo Switch beyond gaming. Nintendo Labo kits are very low cost (cardboard!) maker kits. The Variety Kit includes a cardboard, Switch-driven toy piano. Teachers need to pick up on this one.
Copyright © 2018 Paul J. Drongowski