The Consumer Electronics Show (CES) always trickles out a few products of interest to musicians. (Not just stereo systems!)
Roland R-07
The Roland R-07 handheld recorder might knock my trusty Micro BR from its perch. The R-07 supports mono and stereo WAV recording at rates up to 24-bit / 96 kHz and MP3 recording at rates up to 320 kbps. The Micro BR tops out at 192 kbps when recording MP3 — way behind the times.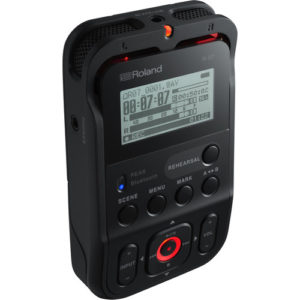 The R-07 also offers Bluetooth control and Bluetooth streaming. Its display is a 128 x 64 graphic LCD. Like the Micro BR, the R-07 runs on two AA batteries. This thing is tiny: 61mm x 103mm x 26mm, 150g. A serving of Cheetos is 28g.
Expect a street price of $229.99 USD. More than six bags of Cheetos.
Advanced Micro Devices
I've got to give a shout out to my pals at AMD. The Ryzen™ Threadripper™ 1950X processor is the CES 2018 Best of Innovation Award winner in the Computer Hardware and Components category. The AMD Ryzen Threadripper 1950X processor supports 16 Zen cores and 32 threads. Awaiting your VSTi's now.
Two other products that raise my eyebrows are the Ryzen 5 2400G and the Ryzen 3 2200G. These are APUs that combine CPU and GPU compute in a single package. Intel are also getting wise and have integrated AMD's Radeon RX Vega M GH graphics with Core i7 processors. Look for smaller, more powerful "2-in-1" platforms later in 2018. I love small and fast. Apple, Mac Mini?
Stay tuned for Zen+, Zen 2, and Zen 3. BTW, I admire how Dr. Lisa Su has gotten AMD back on track. The business press needs to start singing her praises. Kudos!
Kingston Nucleum
Laptop and desktop computer manufacturers have been getting stingy with interface ports. (That's you, Apple.) The Kingston Nucleum is an inexpensive add-on hub for your USB-C computer ($80 USD street). The ports include:
USB-C (power input)
USB-C (data)
HDMI
USB-A (x2)
SD
microSD
This 7-in-1 Type C USB hub might be the ticket for producers on-the-go. I'd love to see an expanded version with stereo audio IN/OUT.
Izotope Spire Studio
Izotope have gotten into the hardware biz and are showing their new Spire Studio all-in-one recording device. It looks like one of the ubiquitous voice-directed assistants. Wonder how many people will ask it for the weather or a sports update?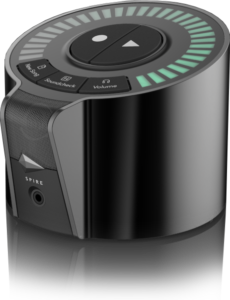 It has two XLR/TS combo inputs with +48V phantom power. Sample rate and depth are 48kHz and 24-bits, respectively. The Spire Studio has built-in 802.11 b/g/n Wi-Fi and runs on a rechargable lithium battery. Price is $349 USD.
Izotope is a Boston start-up to watch. Izotope hosted last year's Music Expo Boston 2017 and I had a chance to visit their office. Good coffee as well as good products.