Every now and again, we poke around in the closet and rediscover a lost gem.
So it is with the Boss DS-330 Dr. Synth. The DS-330 dates back to 1994 (!) and is an almost (maybe) GS-compatible Sound Canvas. It is the smaller brother to the Roland SC-33 Sound Canvas which is GS-compatible. The SC-33 has the same sound set as the SC-55mkII (226 tones) while the DS-330 has a subset (156 tones depending on who is counting.)
I fell so hard for the DS-330, again, that I bought a second hand SC-33. The SC-33 is little bit beat, but I intend to use it with my Nord Electro 2. I won't have any qualms about dropping it into my gig bag.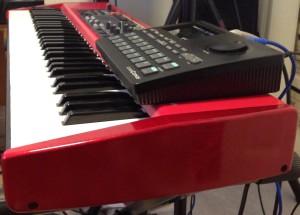 Neither the DS-330 or SC-33 will win any awards for sound quality based on modern standards. The sample format is 16-bit 32KHz and the wave ROM size is 2MBytes. That's right, 2MBytes. However, both machines are good General MIDI playback devices and quite a few of the preset voices are decent enough to play live, especially when they are layered and tweaked.
With old gear, there are always a few compatibility issues. When I drive the modules from a Triton Taktile 49, I get the occasional "MIDI Off Line" error. From the circumstances, I think this is due to incorrect handling of MIDI running status. No problems with Cubase, a Roland SK88Pro or the Nord, however.
The DS-330 and SC-33 share a common physical package and user interface design. And therein are the jewels.
Both units are about 8.5 inches wide and 6.5 inches deep. They sit flat with the display, buttons and volume control on the top, unlike the half-rack form factor and mounting style of virtually all other tone modules. This means that you can set the DS-330 or SC-33 on an open spot on a keyboard (controller) and easily hit the buttons while performing. (Please click on images to get higher resolution.)
Good Golly, how I wish that manufacturers would adopt this form factor again! I'd love to see a Reface in this physical package. I would also love to see a decent ROMpler in this format, too, as an expansion module for digital pianos and B-3 clones.
Software-wise, the user interface has two major modes: single play mode and multi mode. Multi mode is for sequencing and since I'm pitching the module for live performance, I'll concentrate on single play mode.
Once you're in single play mode, navigation is a breeze. Menus are triggered by dedicated buttons and the menus are not super deep or long. Roland also thoughtfully provided a BWD button to move backwards within a menu. Ever skip over the menu item you wanted and had to do a "go round?"
The best part of the overall UI design is the sixteen buttons/pads that select tones. A button selects a tone category and a favorite tone within the category which the user has "registered." That may sound complicated, but it is very natural. All you need to do to register a tone is to hit the catgeory button after selecting the tone. There isn't any explicit WRITE or STORE operation; the software automatically captures any changes and updates the internal parameter memory. (Like many devices from that era, parameter memory is battery powered, not flash.) The closest thing to WRITE or STORE is the simple act of leaving a menu by way of the EXIT button. That's it.
Tones can be layered (DUAL) or split (SPLIT). Splits and layers are insanely easy to create and edit. All editable parameters, split status/level, dual status/level and more are saved with each of the tones. You never have to think about the separate concept of a user performance memory or whatever. The parameters are just part of the tone and selecting a tone recalls the last saved edit.
Single play mode has a DRUM submode. When in this mode, the 16 buttons are now pads that play drum sounds from the selected kit. Sorry, no velocity sensitivity since this is 1994!
These little boxes were thought out very well. If you're a manufacturer and looking to build and sell a piano-top (clone-top, whatever) module, here's your exemplar!