You won't be seeing this from Yamaha, Korg or Roland.
It's the Yudo Kami-OTO. The Kami-OTO is a DIY musical instrument keyboard made from cardboard. The cardboard construct sits over a computer ("ASCII") keyboard. The cardboard keys hit the computer keyboard keys. An app interprets the key taps and makes the noise.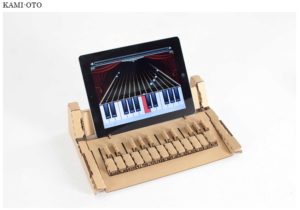 Yudo also make a very interesting synth/piano keyboard: the NEUMAN. They have announced version two (NEUMAN-2) at NAMM 2017. Take the link and check it out. It's control surface is one lone touch panel. Cool.
Speaking of Yamaha, here's a quick hit. The Japanese Yamaha site is advertising the version 1.5 update for the Montage. The update includes a new rotary speaker effect. Yaaaaaaaaaaaaay!