Thanks to Michael at the PSR Tutorial forum, we have the first glimpse of the newest member of Yamaha's MX synthesizer family — the MX88 in black (MX88BK). The MX88BK is an 88-key version of the popular MX49 and MX61 keyboards. The MX88BK has a GHS graded hammer action. It has the same 128 voice polyphony as its brother and sister, and has the same software update for class-compliant USB audio/MIDI.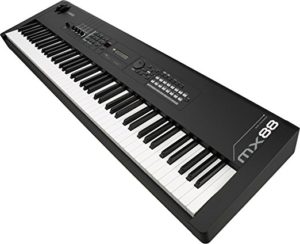 The MX88BK is 6.6 x 52 x 16 inches and weighs 30.6 pounds. The MX88BK will have a street price around $1,000 USD.
The MX88BK is the replacement for the MM8. The Yamaha USA site still shows the MM8 as a current product and it's still possible to order the MM8 from on-line retailers. The MM8 has a GHS keyboard and has a street price around $900 USD. Yamaha is offering a $200 rebate on the MM8. The offer is valid from April 1, 2017 through June 30, 2017.
The MM8's price hits the sweet spot of a GHS piano/synthesizer keyboard around $1,000 (new). The MX88BK will hit the same spot. This is Yamaha's strategy of offering products across a spectrum of prices and buyers — something for everybody.