Looks like the first credible leak about the Yamaha Montage has appeared on the gearslutz.com web site. There is a post taken from the February 2016 issue of the Music Trades NAMM Show special edition, including a small amount of text paraphrased from a Yamaha press release. Here is a short list of product features taken from the leaked text:
61-, 76- and 88-key models
New user interface with color touch screen
Two sound engines: AWM2 and FM-X
Ten times more wave memory
Two times the effects as Motif XF
Two times the polyphony
Motion Control Synthesizer Engine
Super Knob: A single knob to control multiple parameters at once
Integrated flash
The blurb has the link http://4wrd.it/Montage which leads to a page that is not yet enabled.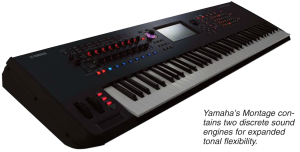 This information is consistent with my earlier analysis. The Montage uses integrated NAND flash (no more DIMMs!). Ten times the wave memory puts total wave memory around 8GBytes (compressed? uncompressed?). This memory will be shared between the factory sound set, libraries and user samples. Polyphony is 256 voices. The XF supports 16 effect units, so the Montage should have 32 effect units (reverb, chorus and insert) total.
The picture shows a clean front panel where the touch screen has subsumed many of the front panel buttons on the XF. There are eight assignable part sliders and a master slider, along with (presumably assignable) eight knobs and buttons. The knobs and buttons are back-lit.
The Super Knob is also back-lit. It will be interesting to find out how this will be used in performance.
Of course, there are a zillion unknown details. Will the UI really be easy to use and navigate? Are there improved pianos and Spectral Component Modeling (SCM) electric pianos? Does the Montage continue phrase-oriented composition? How much internal flash memory is set aside for user samples? How much weight do we need to lug to the gig? What is the street price?
In case you missed them, here are links to two of my earlier posts speculating about the Montage: