Frankfurt Musikmesse 2017 is off and running!
Yamaha Europe have a web page for their new product launches at Musikmesse 2017. You can find links to all of the new products on that page, so I won't reproduce them here.
In addition to new CLP pianos, Yamaha have announced five portable musical instruments:
PSR-E263
YPT-260
PSR-E363
PSR-EW300
DD-75
The PSR-E363 and PSR-EW300 continue Yamaha's pattern of offering a 76-key version (the EW model) of a sister, 61-key portable arranger keyboard. Yamaha want a big piece of the low cost digital piano market in China and 76-key models give them a way in.
Yamaha also claim "improved sampling," which is good. I dinged the PSR-E443 for sounding exactly like the PSR-273 from 2003. Yamaha's competition has gotten stiffer in the entry-level space especially with the new Roland GO:KEYS and GO:PIANO. The few Roland demos on the Web sound pretty darned good. Retailers expect the GO:KEYS in May 2017.
The (unexpected) instrument that brought an instant smile to my face is the Yamaha Venova. The YVS-100 Venova looks like a plumber's playful take on a recorder. However, the Venova features a real mouthpiece and reed, producing a "sax-like" tone. It might be a little harder for Jon Batiste to pick up one of these and rock it!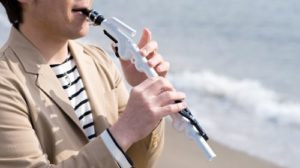 Depending upon the cost, I may have to buy one. Aside from being positioned as a fun, "casual" instrument, the Venova looks like the gateway to clarinet or sax. Of course, This may boost traditional, acoustic instrument sales for Yamaha, too, as people want to move on to the harder stuff. The first taste is (almost) free.
I hope Yamaha release the backstory on the Venova. With the odd bends and squiggles in the pipe, it looks like some engineer brought a virtual acoustic (mathematically modeled) VL-70 instrument to life. Cool! Might inspired a STEM career or two along with musical jams.