September 1st.
While rumors of Yamaha GENOS abound and Roland prepare to redefine the future (again), Korg drop:
Holy smokes! Normally this much excitement is reserved for Winter NAMM. Everybody wants a piece of Christmas season sales!
The KROSS 2 is an update of the KROSS synthesizer workstation. Not to be outdone by the Yamaha MX update, Korg has added two colors: dark blue and a limited edition red marble. The KROSS 2 boasts increased polyphony (from the previous 80 voices to 120 voices) and more preset sounds (from the previous 809 presets to 1,075 presets). There is a new stand, too.
The PA700 and PA1000 are updates on the PA600 and PA900 arrangers. You could kind of see the update coming as prices dropped on the PA600 and PA900 in recent months. The instruments have a new, maroon-ish color. Exapnsion memory is increased (PA1000: 600MB, PA700: 256MB). In addition to new voices and styles, the PA1000 update includes interactive KAOSS FX. KORG's advertising is promoting the color touch panel and songbook, both of which are strong differentiators for the Korg line.
The big news is the Vox-branded Continental. It's much more than an organ and includes acoustic piano, electric piano, drawbar organ, COMPACT organ (AKA Farfisa), strings, brass and more. Other notable features are the semi-weighted waterfall keyboard and Nutube valve drive. This puts the Connie in square competition with the Nord Electro 5d. The price is Nord-class, too: about $1,999 USD for the 61-key model. (There's a 73-key model, too, $2,199 street.)
Aesthetically, the Connie has the old Vox color, but the narrower (and much lighter!) body looks chopped. The stand is not nearly as elegant as the old "S" stand. Nonetheless, it's great to see a manufacturer take a crack at the old classic!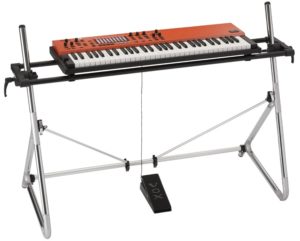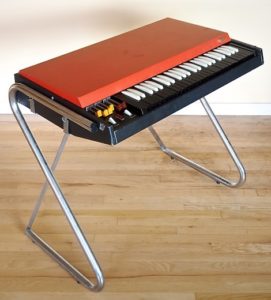 Copyright © 2017 Paul J. Drongowski