A few more thoughts after writing my Genos snap review…
Articulations are gonna take practice
The Yamaha Genos™ is a mini, ready-to-play, orchestral library. The player has a large number of physical controllers including joystick, articulation buttons and aftertouch. This is what draws me to Genos.
One big take away: exploiting all of this capability is going to take practice, practice, practice.
Fortunately, the Genos has a few features to ease the process.
The DEMO touch button is your friend. Each voice has a DEMO button that plays a musical phrase. The phrase typically triggers one or more articulations. The appropriate front panel button (ART1, ART2, ART3) lights up when the associated articulation is triggered.
Another helpful feature appears in the Voice Part Setup display. (Hit the front panel VOICE button to go there.) Genos displays a small icon next to the voice name for each available articulation. [See image below. Click to enlarge.] It's a way to learn quickly what to try or do.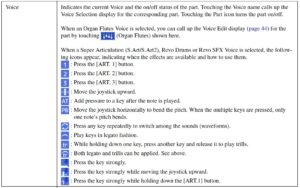 The Genos Data List PDF is another helpful resource. The Data List has a table of all Super Articulation 2 (SArt2) voices, including the articulations supported by each voice.
Reflections on my technique
It really is humbling to record yourself and listen to the playback.
I recorded my noodling and doodling while evaluating the Yamaha Genos. There were a few decent moments in the two hour recording and a number of musical divots:
Lost the beat when my left hand ran out of keys in the lower split.
Playing certain instruments (e.g., oboe) beyond the comfortable, natural range of the acoustic instument.
Pointless, wandering improvised solo lines.
The first two divots are partially due to unfamiliarity with the split point and positioning of the left and right hand voices. In retrospect, I didn't drop the left hand voice an octave (via the Genos MIXER panel) and wound up playing the bass line quite close to the lowest keys. This problem is easily fixed technically when programming splits and layers for actual use. (Once I get a Genos. 🙂 )
Without setting the left hand range properly, I'm playing away and, suddenly, my little finger is hitting the end cheek (or whatever that inert block of plastic or metal is called). That moment of frustration just enough to throw me off tempo. (The huge reason why I hate 37-key keyboards.)
Playing outside the natural range of the acoustic instrument is mostly on me. I wanted to test the full range of the oboe (for example) and that was a deliberate choice. I usually assess a musical score ahead of time to determine if and when I can play a higher oboe line. However, a big "however," I know there are times when I botch this — live in front of a congregation. My face flushes and I desperately think about how I am going to gracefully get myself out of the situation.
The third divot is all on me. Alot of my improvisations were down right embarrassing — solo lines that made noise and went nowhere. Some of the meandering was due to the Genos evaluation — pushing buttons to change a voice or randomly flogging the articulation buttons to see what they would do. However, some of the meandering is due to distraction and lack of engagement in what I was playing.
Self-reflection led me to a few rules that I need to follow when improvising:
Be full engaged with the music.
Don't become distracted by the technology while playing.
Be deliberate. Play with authority. Don't be tentative.
Play with intention.
Have a musical guide.
The best moments in the recording are when I was fully engaged with either the score or the backing track. I can sense this while listening. Without engagement, I'm a dead duck and I should just kick back and comp in sync with the beat. (Of course, comping requires a level of engagement, too!)
Being deliberate goes along with engagement. When you're deliberate, you're involved. It raises the energy level and mental concentration. All good.
The notions of intention and having a musical guide are very important. Intention means having a message and a direction. Know where you're going and what you want to say. Otherwise, it really is random noise, even if it's played in the pocket.
By "musical guide," I mean a lead sheet or other kind of score. The lead sheet may be mental rather than paper. It's a structure. With the structure in place, you can make the changes and play around the melody. It's no wonder that many jazz improvisations start and finish with a head.
I hope these reflections help you out while I hope that I live up to them myself.
Let's talk money
It always comes back to the money. 🙂
The Genos is not a cheap instrument. A large part of its cost is the research and development that went into the instrument. Yamaha outdid themselves with new SArt and SArt voices. (Yamaha finally broke the waveform memory barrier imposed by their previous generation hardware.)
However, let's be rational about the price and strategize. Nobody pays MSRP (list price) for a car and you're not going to pay list. Everyone advertises the Minimum Advertised Price (MAP), $5,499.99 in the United States. If you put in modest effort, you're not going to pay MAP either.
Don't just click "Add to cart." Call. Don't just call big on-line retailers. Support small dealers. That's "deal-er." Aside from good customer service, this is one of the main reasons why I call Audioworks CT.
You may choose to buy Genos somewhere else, but a little bit of phone shopping can save you rent money.
Copyright © 2017 Paul J. Drongowski