So, is someone having a good laugh at us or is someone in trouble for accidentally releasing the Yamaha Genos teaser video? Or, is this a planned flash dance to get the fan base stirred up?
Debate is already raging on the PSR Tutorial Forum about the authenticity of the video. If it's a fake, then hat's are off to someone with brilliant production skills.
If you've seen the video, the instrument is not shown definitely. Rather, two hands conjure pixie dust into a stylized, 3-Dish instrument. There are one or two brief flashes of the rear view. (Not meaning to be crude, here.) The hands are disconnected from any meaningful musical gestures except for one deliberate gesture at roughly 46 seconds. A hand moves a slider in sync with an sforzando sweep in the soundtrack. Shades of Montage's "Music in Motion" theme.
Observations include: six knobs, nine sliders, ten registration buttons, (probable) touch screen. Yamaha seem to have cornered the market on red and blue LED given this video and the Montage! Special thanks to Marcus, Maarten and Vinciane on the PSR Tutorial Forum for their keen eyes and steady disposition.
Here are a few captures from the unverified teaser video for the new Yamaha Genos arranger workstation. First up, the Genos logo. [Click on images for higher resolution.]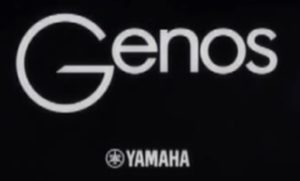 Next, is a close view of the knobs and faders. Mid-range PSR and Tyros models have a drawbar mode. Perhaps Yamaha have now given the drawbars proper faders? If true, Genos could be a terrific stage gig machine for the non-EDM types who crave quality acoustic piano, electric piano and B-3 organ. A shame that Montage didn't fully nail drawbar control.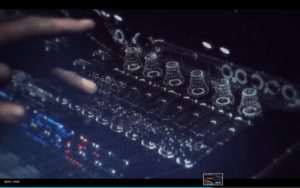 Finally, not so delicately put, is the rear view, presumably with all of the usual connectors provided for.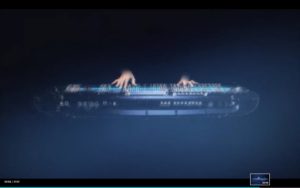 We'll know for sure, soon. Dealer preview dates are September 18 (Europe) and September 28 (North America).
If you're curious about what a new Yamaha arranger might do, then please read my blog posts about recent Yamaha R&D patents:
Copyright © 2017 Paul J. Drongowski