Aside from the teased iRig Stomp I/O, IK Multimedia are offering the official Leslie® collections for AmpliTube and T-RackS. What makes it "official," I suppose is the co-branding with Hammond USA and Suzuki Music Corporation of Japan. You get 5 amp and 6 cabinet simulators with can be used in AmpliTube and T-RackS. [This capitalization is annoying.]
The AmpliTube and T-RackS Leslie collection are $99.99 USD each (pre-order price). Get 'em both for $149.99 USD (pre-order price).
Will we finally see the Teenage Engineering PO-33 KO Pocket Operator ($89 USD) and the PO-35 Speak Pocket Operator ($89 USD)? [Yes! See the update below.] Will we see the Yamaha VKB-100 Vocaloid keyboard? A Half-Monty to replace the MOXF? Montage enthusiasts may be disappointed to learn that "flagship digital workstation" in the recent Yamaha NAMM press release refers to the Genos. Don't forget about the new PSR-S775 and PSR-S975 arranger workstations.
In case you missed it, the street price (MAP) for the Studiologic Numa Compact 2x is $699.95 USD.
Pipes is an upcoming Kickstarter project for a stand-alone, sample playin' hardware module. It is the latest product from Synesthesia Corp. Synesthesia will be showing off their work at NAMM 2018. It's in the prototype stage.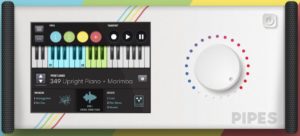 That's a seven inch touch screen in the mock-up image. [Click image to enlarge.] Small it's not.
Update: The Teenage Engineering metal series
Teenage Engineering updated their site after Winter NAMM 2018 opened. The PO-35 Speak Pocket Operator and the PO-33 K.O! are part of the new metal series The third member of the series is the PO-32 Tonic drum synthesizer and sequencer ($89 USD)..
The PO-35 Speak ($89 USD) has a built-in microphone which lets you sample your voice or whatever (up to 120 seconds of sampling time). Once sampled, you can apply effects, transpose and so forth to mangle the sound.
The PO-33 K.O! ($89) is a micro-sampler. It also has a built-in microphone. Sampling time is 40 seconds. Seems like the main difference is that the PO-33 is melodic while the PO-35 is vocal. What does that really mean anyway? Just sample away and make beats!
Copyright © 2018 Paul J. Drongowski