After fits and starts due to early leaks, Yamaha have launched the Yamaha Genos™ digital workstation. You can check out Yamaha's content through the Genos concept site or the Genos product pages. [Click images to enlarge.]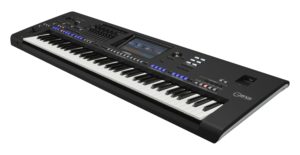 There's no point in regurgitating Yamaha's on-line content, so I will just summarize highlights here.
Size: 48-9/16″W x 5-7/16″H x 17-15/16″D
Weight: 28lb, 11oz (13.0kg)
9″ color touch screen (TFT color WVGA 800 x 480 pixels)
Live Control display (OLED 589 x 48 pixels)
9 sliders and 6 knobs that are fully assignable
76-key FSX keyboard
Joystick with modulation and joystick HOLD
Synthesis: AWM2 and Articulation Element Modeling (AEM)
Polyphony: 256 (128 for preset voice + 128 for expansion voice)
550 styles total (punchy drums and DSP effects)
1,652 voices + 58 drum/SFX kits
216 arpeggios: instrument arps, e.g., strums and control arps automate Live Control
28 insert effects including VCM effects
Vocal Harmony and Synth Vocoder
Audio recording: Audio (WAV 44.1kHz, 16-bit, stereo) and MIDI SMF
Audio playback: WAV (44.1kHz, 16-bit, stereo) and MP3
MultiPads (both audio and MIDI)
Internal memory: 58GBytes (approximately)
Connectivity

S/PDIF digital audio output
Three USB TO DEVICE ports (front panel, back panel, bottom)
Wireless LAN (IEEE 802.11b/g/n) depending on regional type acceptance

32-bit digital-to-analog converter (DAC)
1.8GBytes user voice expansion memory built-in
The Genos looks to be a nice overhaul of the now staid Tyros product line. If you're familiar with Tyros — and I'm assuming that you are — then you are not super surprised at some of the features while being pleased (or not) to have a color touch screen, lots of assignable knobs, sliders and buttons, a secondary OLED display to show parameters, doubled polyphony, S/PDIF, wireless LAN (maybe, in your region), and a 32-bit DAC.
Yamaha have chosen to issue only a single 76-key model; no 61, no 88. This gives them interesting options for line extension. Go small and save weight, or feed the world's almost insatiable hunger for 88-key piano-like objects?
You might also be surprised to not see audio styles. I think the original audio styles confused most users. Can I save them to USB drive? No. Did they fit many tunes other than the "reference" song? No. Handling REX format via the Yamaha Expansion Manager (YEM) should resolve these issues for advanced users. Yamaha punched up the drums to improve the live feel. (Hey, don't Yamaha actually make drums? Just kidding.)
Featured instruments include:
CFX piano
C7 grand piano (newly sampled)
Kino strings

Newly sampled movie orchestra
Violins hard-panned left and right
Violas, cellos and contrabass center

Revo drums (waveform cycling)
If rumors hold true, there should be a new Strat in there somewhere as well as Gibson and Martin steel guitars and a pedal steel guitar. The electric pianos have gotten the ambient noises from the Montage EPs.
The Live Control view is nicely done. Change a knob and the display shows the new assigned parameter value. Change a slide next and the display switches to the slider settings. Good, no button needed to switch displays while playing. The knobs and sliders are integrated with drawbar settings, making the Genos could be a worthy clone competition or a close substitute for a clone. The new rotary speaker effect (from the Montage?) sounds good. But, Yamaha, you left out the chorus (vibrato only). Don't chuck your Reface YC.
The playlist feature looks to be a very useful addition. The playlist organizes registration banks for quick access. The PSR/Tyros registration concept is a very powerful one and I wish that Montage had a similar capability. I love registrations because, bang, in one button press, I have a song ready to play. (More about this another day.)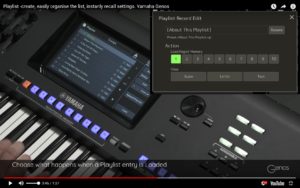 Having a USB device port hidden under the unit is a great idea. Ever have a drunken chucklehead at a bar try to pull out your USB drive? Ever be a chucklehead yourself? 🙂 More manufacturers should do this.
A new release of Yamaha Expansion Manager (version 2.5) is planned for November 2017, roughly in sync with first deliveries. YEM will have support for WAV, AIFF, SoundFont and REX formats.
A new release of MegaEnhancer (version 1.5) will be available in November, also. MegaEnhancer changes the MIDI data in a Standard MIDI File (SMF) to use Yamaha's MegaVoices.
The iPad app SongBook+ is also on the way. SongBook+ organizes songs with lyrics, notation, and other information. A song may also be linked to a registration — a very handy feature for performers who need to home in on the complete set-up for a song during performance. I play with charts; I like this.
The USA manufacturer's suggested retail price (MSRP) is $6,799 and MAP is expected to be $5499.
From a hardware guy's point of view, there are a few things to think about. The 32-bit DAC is a first for Yamaha. Even Montage does not sport S/PDIF. No mention of Pure Analog Circuit, so the audio back-end must be new, new, new.
The polyphony spec is très intéressant: 128 for preset voices and 128 for expansion voices. Hmmm, how did Yamaha arrange (pun intended) the SWP70 tone generators and NAND flash memory?
So, Yamaha have 1.8GBytes of flash left over for voice expansion. There simply is not enough information to infer waveform memory size, so we'll all be waiting for the service manual.
Speaking of manuals, there aren't any available at the time of this writing. No owner's manual, reference manual or data list. Nada. The early leaks forced Yamaha's hand to launch the Genos two weeks early and now we will wait. First deliveries are anticipated for November. Déjà vu all over again.
I am literally weighing the Genos (13kg) versus the Montage (15kg) as my next ax. There is still a huge amount to learn about the Genos as it is revealed. Has the sequencer gotten an overhaul? Does the Genos support deep voice editing? The user interface does look inviting and I look forward to seeing more.
Sometimes a little bit of information just leads to more questions.
Copyright © 2017 Paul J. Drongowski