Winter NAMM 2017 starts in two weeks (January 19). As usual, we gear freaks can't wait to get our annual new product fix!
Roland jumped the field and announced a few new products at the 2017 Consumer Electronics Show (CES). They appear to be rolling out a new consumer-oriented product line, "GO:", for amateur musicians and music makers.
Roland announced two new keyboards for beginning players: the GO:KEYS (G-61K and G-61KL) and the GO:PIANO. Both products target the entry-level market currently dominated by Yamaha and Casio. This is a smart business move as the entry-level segment moves a lot of units and offerings in this segment have been getting stale. Here are estimated USA sales statistics for 2014 in the "portable keyboard" segments:

    Category                       Units            Retail value
    -----------------------------  ---------------  -------------
    Portable keyboards under $199    656,000 units  $ 64,000,000
    Portable keyboards over $199     350,000 units  $123,000,000
    Total portable keyboards       1,006,000 units  $187,000,000

    (Source: NAMM)

Unit volume is high, but price and margins are razor thin. Keyboards in the "under $199" category are sold mainly in big box stores, not musical instrument retailers. So, it will be interesting to see where the new Roland keyboards are sold.
The GO:KEYS is most similar to an entry-level arranger keyboard. Estimated street price is $299. Roland is selling two models: a model with Bluetooth support and a model without. Probably depends on their ability to get RF type acceptance in a country or region. The GO:KEYS claims General MIDI 2 (GM2) support among 500 "pro-quality" sounds. The GM2 tone set consists of 256 melodic instruments and nine drum kits. I produced quite a few decent backing tracks using the Roland GM2 sound set on its RD-300GX stage piano. If Roland adopted this set, then the GO:KEYS should sound pretty decent (at least through external monitors rather than its internal speakers). No manual yet so it's hard to say specifically what other sounds are included. Even if they recycled some chestnuts from the old JV/XP/XV, there is hope.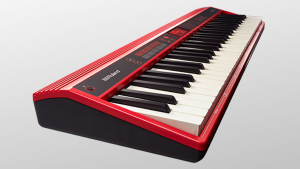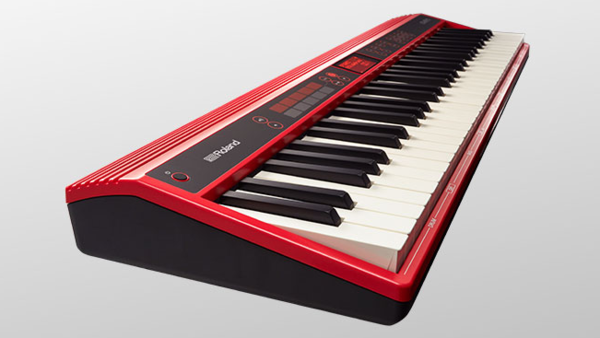 The Roland GO:PIANO is, ta-da, a portable piano. This product has the Yamaha Piaggero line in its cross-hairs. The estimated street price is $329. Again, no manual, so it's hard to assess the feature set. Pricing on both products places them at the higher end of the entry-level market. The inclusion of Bluetooth support at this price point is a significant differentiator.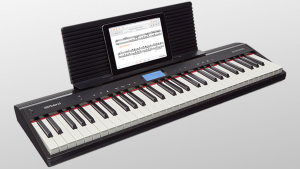 Both the GO:KEYS and GO:PIANO are battery powered (six AA batteries) in addition to an AC adapter. Both products use one-off fixed field LCD text and graphics like the lower cost Yamaha and Casio models. The key beds look decent, but we will have to play them in order to assess feel and quality. At least the keys are full size — not mini-keys, thank you.
If the Roland sounds are indeed up to snuff, Roland may be able to take sales away from Yamaha and Casio. Yamaha has been coasting with its entry-level sound set for over a decade and the recent PSR-E453 refresh did little to rejuvenate the entry-level segment. It will be interesting to see if Roland can win sales and spur innovation at the low end.
The GO:MIXER is positioned as an audio mixer for your mobile phone. It is USB powered, however, with no battery option. The GO:MIXER has guitar, microphone, instrument and media player inputs with associated mixing level control. There is a stereo monitor output as well as a "center cancel" feature. The estimated street price is $99USD.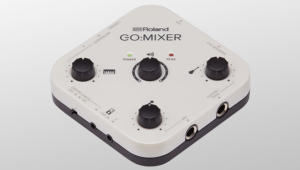 Although Roland promote it for video production, I could see musicians using the GO:MIXER for a quick mix in the field. It certainly has enough inputs that a small group of pals could plug in and jam away.