OK, OK, I know about the Arturia MiniBrute 2 and Moog Drummer From Another Mother — and so do you. 🙂
You may not have heard about the Melo Audio MIDI Commander, which was teased last year. Melo Audio's teaser targets guitar players, but this ten button foot controller might appeal to keyboard players who need to make fast patch changes and so forth.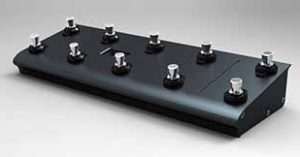 In addition to ten foot switches, the MIDI Commander has two expression pedal inputs. "Fusion mode" combines program change (PC) and control change (CC) MIDI messages. (We'll have to wait for the documentation to find out what's really going on here.) The MIDI Commander is compact (286mm x 110mm x 60mm, 11.3″ x 4.3″ x 2.4″), can run on two AAA batteries and has an OLED display.
The "Coming soon" page for the MIDI Commander shows a preproduction mock-up. I'd love to know if good ole 5-pin MIDI is included. Could be an alternative to the Yamaha MFC-10.
Speaking of teasers, Hammond are teasing a new model in the SK series of clones, the SKX.
Also, Dexibell are teasing a new organ: tone wheel (including pedal), Farfisa, Vox and pipe organ (upper, lower, pedal). An extension to the COMBO J line?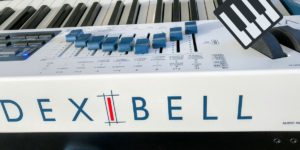 Another new product on the way is the Dexibell Vivo S7 Module which incorporates the sounds of the Dexibell Vivo S7 Digital Piano.
Copyright © 2018 Paul J. Drongowski