Hey, hey, just flipping through a few media press kits (NAMM 2016) and wanted to jot down some notables. This site is not just about Yamaha after all.
The Roland A-01 controls MIDI and CV/Gate-equipped analog gear, has a 192mm X 40mm LCD screen, onboard tone generator, built-in speaker and 16-step sequencer. The A-01 is battery or USB powered and snaps into the (optional) K-25m keyboard. The pair are shown in the image below. (Click images for higher resolution.) Connectivity includes standard MIDI IN/OUT and wireless MIDI via Bluetooth LE. Wonder what the BLE latency is like?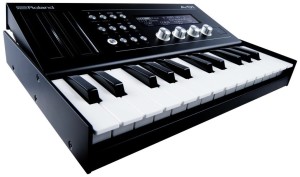 The tone generator is described as an "internal 8-bit CPU sound generator." Your guess is as good as mine. Seems like a logical extension of the Roland Boutique line. Totally tiny and portable. (Tinny, too?)
The Roland JC-01 Bluetooth Audio Speaker is a mini Jazz Chorus. The device purports to have a clean sound, an integrated, rechargeable battery, passive radiator, and a three-band EQ. No effects. You can even use it as a speakerphone!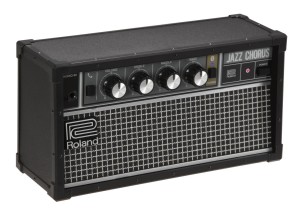 I'm a sucker for these little amps. The Blackstar Fly 3 Bass has my eye, too. I just hope that the Roland doesn't carry its usual exorbitant Roland mini-amp price. We'll have to put a keyboard through it and see if it's up to the job. A nice beefy B3 patch usually reveals flatulence and boxiness in a hurry. The Fly 3 Bass might just carry the low end better than the mini-JC.
The Roland System 500 is a thing of beauty. I keep my old Electrix modules just because I like the light show in the rack. But, this is visual art.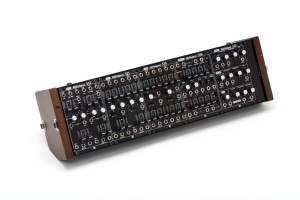 As Will Smith said in Independence Day, "I have got to get me one of these!"
Boss has a few new, fun toys, too. The VO-1 Vocoder Pedal could do some serious damage to things other than guitar. And, it's all in a stomp box. Speaking of stomp boxes, Singlular Sound released the BeatBuddy Mini with a lower street price than its bigger, er, buddy. The Mini does away with all of the external interfacing and extensibility — kind of a one-off pedal. Yes, folks, all those darned connectors and connections cost money and need to be tested in QA. I think we're going to see more and more tech in pedals, especially accompaniment and backing. There's money to be made in those darned [guitar] hills!
Maybe not at NAMM, but Apple announced its free Music Memos app. Here's a few quick quotes:
Sometimes the best ideas come when you least expect them. When those moments happen, open Music Memos to record high-quality, uncompressed audio through the built-in mic in your iPhone, or connect an external microphone. Music Memos is optimized for acoustic guitar and piano, and it works with other musical instruments, too.

Music Memos automatically analyzes the basic arrangement and suggests chords you played for each track. Then you can hear how your music sounds with a realistic virtual drummer and bass player jamming along. If your performance speeds up or slows down, so does the band. You can even tweak the energy and performance of the drums or bass with a few simple controls.

To build in additional tracks and instruments for a professional-sounding mix, move your recordings into GarageBand on your iOS device, or GarageBand or Logic Pro X on your Mac.
Hmmm, looks like Yamaha Chord Tracker has competition! Yamaha have been very busy with audio analysis algorithms to detect beats, chords and the like, so we haven't heard the last from them. Another app to consider — although it is currently pitched toward classical musicians — is Cadenza. Cadenza and Music Memos both track your tempo. All of that academic research on music analysis is beginning to bear fruit!
The Korg nanoKONTROL and nanoKEY Studio are too cute for school. Honey, I shrunk the Taktile. USB and Bluetooth LE. (Again, latency over BLE?) Both controllers are bundled with software.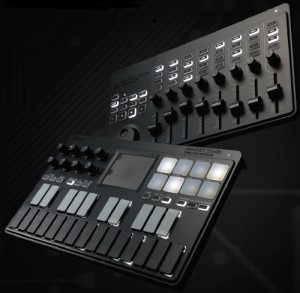 I still like my Triton Taktile 49. The Korg software bundle with the Triton Taktile was a really sweet deal for the cash. Sometimes it's worth it to buy a piece of kit just for the software. I bought an M-Audio Keystation Mini 32 (once) just to get Sibelius First. The bundle was cheaper than buying Sibelius First alone and I desperately needed a notation tool at the time. (Still like Sibelius First, too.)
Of course, there's the Minilogue. It's micro-analyzed to death in the forums, so no need to dive into that here. I like the inclusion of an oscilloscope, but I think one of the larger, inexpensive 'scopes like the Xminilab Portable Small Mixed Signal Oscilloscope would display more information, have two inputs, be portable and be ready for action anywhere in the lab or studio.
Finally, there's the Korg Kronos Platinum. What a handsome beast! I noticed that the back panel is perforated which should help with airflow through the unit.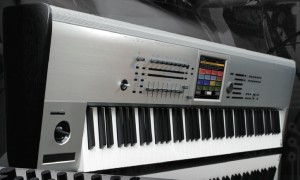 Only 300 units will be sold in the U.S. market. I wonder if John Batiste will get to rock a Platinum on LSSC?