At long last, Yamaha have announced their Vocaloid™ keyboard, the VKB-100. The VKB-100 is a keytar design similar to the prototype shown at the "Two Yamahas, One Passion" exhibition at Roppongi Hills, Tokyo, July 3-5, 2015.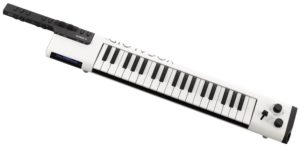 More details will be released in December 2017. However, this much is known:
Lyrics are entered using a dedicated application for smart phones and tablets via Bluetooth.
VY1 is the built-in default singing voice.
Up to 4 Vocaloid singers can be added using the application.
Four Vocaloid voices will be available: Hatsune Miku, Megpoid (GUMI), Aria on the Planets (IA), and Yuzuki Yukari.
Melody is played by the right hand while the left hand adds expression and navigates through the lyrics.
A speaker is built-in making the VKB-100 a self-contained instrument.
The VKB-100 was demonstrated at the Yamaha exhibition booth at the "Magical Mirai" conference held at the Makuhari Messe, September 1-3, 2017. Price is TBD.
VY1 is a female Japanese voice developed by Yamaha for its own products. VY1 does not have an avatar or character like other Vocaloid singers. This makes sense for Yamaha as they can freely incorporate VY1 in products without playing royalties or other intellectual property (IP) concerns.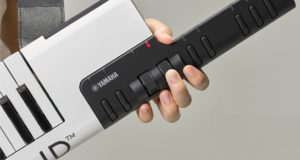 The Vocaloid keyboard has had a long evolution, going through five iterations. The first three models did not use preloaded lyrics. Instead, the musician entered katakana with the left hand while playing the melody with the right hand. This proved to be too awkward and Yamaha moved to preloaded lyrics. The left hand controls on the neck add expression using pitch and mod wheels. The left hand also navigates through the lyrics as the musician "sings" via the instrument. The current lyrics are shown in a display just to the left of the keyboard where the musician can see them.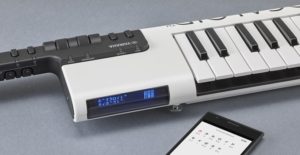 Yamaha will release more information on the Vocaloid keyboard site.
If you want to get started with Vocaloid and don't want to spend a lot of Yen (or dollars), check out the Gakken NSX-39 Pocket Miku. Pocket Miku is a stylophone that plays preloaded Japanese lyrics. The NSX-39 also functions as a USB MIDI module with a General MIDI sound set within a Yamaha XG voice and effects architecture.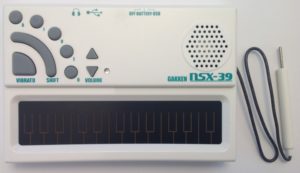 Be sure to read my Pocket Miku review and browse the resource links available at the bottom of the review page.
Copyright © 2017 Paul J. Drongowski