Trumpet?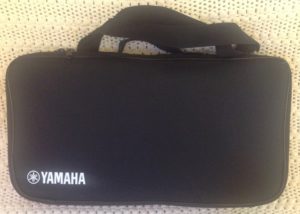 No, Yamaha Reface YC!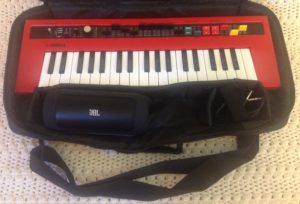 I finally had enough time 'shedding with the Yamaha Reface YC to have the confidence to take the YC to rehearsal with me. [Click images to enlarge.]
I need to write a long review, but here's a few quick thoughts.
The Reface YC makes a good, lightweight rehearsal rig. Usually, I need strings, horns and a few woodwinds in addition to organ to cover our repertoire of liturgical music. However, I dialed in 608400000 for most of the non-organ church tunes and covered things reasonably well. Slow rotary or clean were enough. For the gospel tunes, I threw in a little 1′ and 2′ to brighten the sound. Nothin' major.
One advantage of the mini-keys is the ability to kick the SPEED switch while holding a bass note. It took some 'shedding to get used to the narrow width of the mini-keys. Even though I had enough range for most tunes, three octaves ain't enough. I really wish the YC had four octaves. Think Harry Connick Jr. rocking a Reface CP on Fallon: "There's not a lot of room. But, I'm havin' fun."
The YC drew favorable comments from both the MD and our pianist. (Thanks John, Margie and Steve — bless you.) The small, light rig got a few envious looks as folks carried out their guitars. (Envy is a deadly sin.)
That's a JBL Charge 2 portable speaker in the bag. I shut off the YC's internal speakers and play it through the Charge 2. Its passive radiators do a pretty decent job of bass reproduction. I've been kicking simple bass lines with my left hand and the JBL Charge 2 is just enough for our (mostly) acoustic rehearsals. Surprisingly, no break-up with full organ chords either.
The whole deal is battery powered. If I had enough shed time before our annual outdoor service, I might have played the Reface YC instead of schlepping the MOX6.
More thoughts after the Genos™ craziness settles down. In the meantime, if you want to know what's inside of a Reface YC and CP, check out my blog post about Reface YC and CP internal design. Shucks, find out what's inside of a Reface DX and CS, too.